A good table always makes a player play his level best, and so we always suggest getting the best functional table tennis player for the amateur players, who, with regular practices, can become a great player one day. So using a superb quality table is a mandatory part of becoming a professional player.
Nittaku Crest-25 Overview
Nittaku Crest 25 is an IITF approved competition level table which will be beneficial for all level of players and it will also make you a professional player.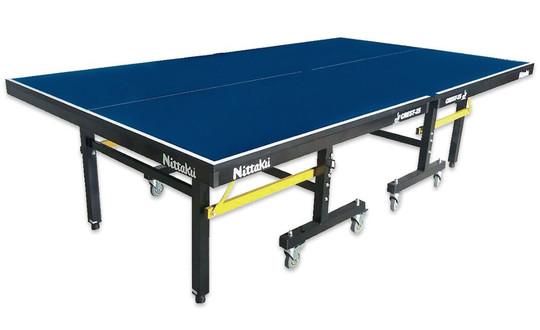 Features:
This Nittaku Crest 25 table comes with a 1 inch thick top which ensures enough bounce and consistency of the game. You will be able to learn the handling of power strokes while playing on this table.
This table is used for tournaments as it comes with the efficiency and sporting features. The features of this table made it a world-famous one as it is used for the championships played at any corner of the world.
This is a long-lasting table. You can buy it once and use for years. This is a great way to invest your money on sports items, as you will get the value of your money back.
The table comes in two-piece design. It is foldable and you can keep it folded when you wish to store it.
Also keeping it half folded will allow you to play solo table tennis game. You can master the skill of playing without any company, with this playback mode of this table.
The rolling and unfolding of this table is easy. As this is a lightweight table, you do not need to be bothered much. You can single-handedly manage the unfolding and folding of this table.
This Nittaku Crest 25 table is suited for indoor use only, so try not to keep it outside for long hours. It will not be able to stand the effect of weathering for long hours.
There are eight rolling wheels under this table which helps the table to stand stably. You can drag the table from one place to another with the help of theses wheels without using much pressure.
The net set is included with the package of Nittaku Crest 25 table. You do not have to buy the set separately, the high-quality Nittaku net set is with just right tension to make the game exciting.
The rolling position of the table makes it compact and you cat store it anywhere within your home.
This table does not come in assembled condition. You need to spend half an hour to get everything fixed.
Pros:
Net post included
Thick table top offers bounce
Wheeled legs for portability
Foldable
Can be used in playback mode
IITF approved
Cons:
No built-in ball holder
Needs assembly
Conclusion:
This Nittaku Crest 25 table is highly recommended for recreational playing as well as beginners who are yet to reach the professional level. This table is great when it comes to learning new skill. This one comes in a pocket friendly price, so the future championship players can practice their game on this game to become top grade player.
Also Check: